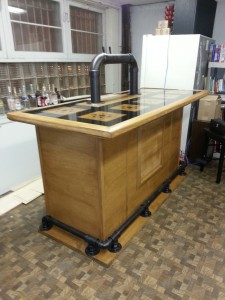 It all began with a dream: a cerebral lubrication station worthy of our fine hackerspace, serving as focal point to transform the lounge from a seldom used area into PS:One's central communal nexus. From there, a collaborative project was born. PS:One member Greg Daneau built the first incarnation of our bar. He built the bar top from an unfinished door, an open frame supported it, and it had a foot rail made of pipe. The result was impressive, even if it was but a small shadow of the glory that the bar ultimately became. Thus began an asynchronous collaborative project, with hacker inspiring hacker to hack the bar to higher pinnacles of zymurgical greatness. And it arguably served as an "altar" for the budding Beer Church.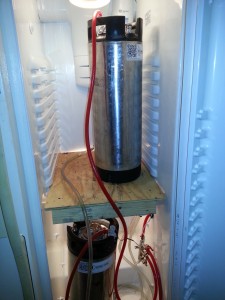 Seeing the bar in all its inebriating glory inspired member Ryan Pierce to build a draft system and kegerator from a donated refrigerator. It can hold up to six 5-gallon Cornelius kegs (used frequently by homebrewers) or a single 15.5-gallon beer keg. A fan forces cold air through an insulated hose carrying the beverage lines to the draft tower. The draft tower itself was built from PVC pipe, fittings, and drain flanges. An insulated return hose carries the air back to the refrigerator. This air loop keeps the beverage lines and taps cold, which reduces the tendency of beer to foam in the line. Jeremy used our TIG welder to weld a drain pipe to a stainless steel drip tray, directing any spills into a bucket.
The existence of the bar and draft system steered the focus of Beer Church towards kegging. Cornelius kegs can hold finished beer and can be used for natural carbonation (caused by additional secondary fermentation from priming sugar) or forced carbonation supplied directly from a CO2 tank.