Join us from Friday, July 14 – Saturday July 15 for a Design Jam, on-site building session and tournament for miniature, 4-second analog robot battles. Free food and beverages will be available throughout the 30-hour event.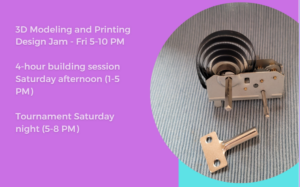 Haven't been to PS1 in a while? This is the perfect opportunity to re-acquaint yourself with the space, see lots of tools in action, and collaborate with other makers. As much as this is a competition (with awesome prizes), it's a great way to collaborate and learn about building with metal, wood, 3D resin and cardstock using CNC machines. The Friday Night Design Jam is a perfect introduction for people who are totally new to 3D printing, and offers a special focus on robot design and stereolithic printing on the Form 3. (Note: if possible, bring a laptop to this session.) 
35 motors are available and giant junk piles of parts, supplies, gears and custom-printed parts (from the Design Jam) will be available. 
Capacity is limited. Motors will be distributed Friday night and Saturday at 1 PM.
Pumping Station: One
3519 N Elston Ave, Chicago, IL 60618