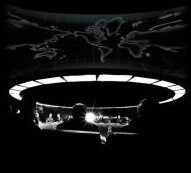 Dear CCCKC and HacDC: It's on like Donkey Kong.
Pumping Station: One, CCCKC, and HacDC announced at the DEFCON
Podcaster's Meetup of the creation of the Warzone Project. As you may
know, the CCCKC network has a separate area dedicated to security
research…both attack and defense. This separate section of the network
was created so that members had a sandbox to attack and defend without
worrying about compromising their own or someone else's systems and
information. The premise is that of assumed risk, neighborliness and
numerous disclaimers to users looking to participate that they should
know exactly what they are doing (or at least getting themselves into)
by connecting to the network.
We were ecstatic when we were contacted by the Astaro corporation who
loved the idea so much, they not only wanted their hardware on the
network but that they wanted to help expand the Project nationwide by
donating appliances to each of us. Each hacker space has their
hardware and over the next few weeks we will be hashing out the
details and putting together the darknet.
Below you will find the press release which was issued by Astaro at DEFCON.
For more information, you should follow the Warzone Project on
Twitter.  (@warzoneproject)
Astaro Corporation (http://www.astaro.com), a leading network security
vendor, today announced that Astaro has donated three Astaro Security
Gateway appliances to the Warzone Project, a joint research venture
between hacker spaces in the United States. The Warzone Project
creates a secure network between hacker spaces around the country for
information security research.

Hacker spaces are community-operated physical spaces where people meet
and collaborate on all forms of technology, culture and crafts in new
and interesting ways. Members are encouraged to share research and
discoveries and use what they learn to help educate others.

Astaro donated three Astaro Secuirty Gateway appliances to this
initaitve as part of the company's ongoing commitment to educating the
technology community about network security. The Astaro Security
Gateways will be used to interconnect and build the Warzone
infrastructure. Additionaly, the Astaro Security Gateways will provide
insight into where traffic comes from and will help the Warzone
hackers identify potential vulnerabilities and develop attack
defenses.

"When we began organizing the Warzone Project we knew we needed a
trusted security product for the program be successful," said Bill
Swearingen (hevnsnt) of the Cowtown Computer Congress. "We approached
Astaro to sponsor our events by donating the appliances because the
Astaro Security Gateway offers reliable Intrusion Protection System
that was ideal for testing the effectiveness of real-world attacks,
and for helping us to develop security standards."

There is a common misconception that people who identify as hackers
are criminals or engaged in other unethical activities.

"Hacker spaces and the Warzone project are helping to combat the
negative image hackers have acquired by demonstrating that most
hackers are not engaged in criminal activity and are more interested
in finding and sharing information; including possible network
vulnerabilities," said David Rogers, Vice President, Americas, Astaro
Corporation. "Astaro is proud to be a part of initiatives like the
Hackerspace Warzone project because they will help network
administrators and security vendors create more secure environments."

The Warzone project will entail a secure "darknet" connecting hacker
spaces from around the country, creating a sandbox environment for
both offensive and defensive research. The first hacker spaces to
participate are the Cowtown Computer Congress in Kansas City and
Pumping Station: One in Chicago.

The Cowtown Computer Congress (CCCKC) is a not for profit technology
cooperative founded to advance technology of all kinds. They are a
member supported organization providing technology classes, workshops
and services to the public free of charge. CCCKC brings together some
of the finest minds in midwest to collaborate on research and projects
for other local groups. Through their affiliate program, CCCKC gives
assistance to specialized technology user groups by providing them
with a facility to hold meetings and work on projects of their own.
CCCKC's Underground Lab is located 85 feet below the surface of the
earth at 31st Street and Southwest Trafficway in Kansas City,
Missouri.
http://cowtowncomputercongress.org
[email protected]

Pumping Station: One, NFP, is a space to facilitate creativity in and
through the merging of art, technology, and culture. Members enjoy a
diverse community of peers to collaborate with, classes and workshops
on subjects from electronics and programming to welding and home beer
brewing, and 24-hour access to a huge variety of tools, equipment, and
resources for just about any project imaginable. Pumping Station: One
is located at 3354 N. Elston Ave in Chicago, Illinois. To learn more,
visit www.pumpingstationone.org, or contact
[email protected]. This is an Illinois Not-For-Profit
organization.
https://pumpingstationone.org