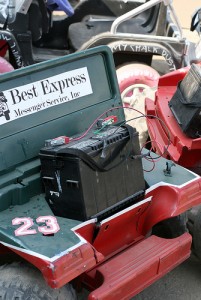 Adults who missed the thrill of Power Wheels or Little Tikes cars as a child now can go one better: by modifying the battery-powered child-size vehicles and competing at Maker Faire Detroit. Teams of DIY mechanic enthusiasts have been upgrading the small-scale cars far beyond stock performance levels to win prizes and bragging rights.
Among many other activities at Make magazine's Maker Faire at the Henry Ford Museum in Detroit, July 31–August 1, the DieHard-sponsored Power Racing Series (PPPRS) will premiere. In its inaugural year the event was internal to PS: One, but this year brings teams together from far beyond the Midwest.
Jim Burke, a Pumping Station: One Director-at-Large and the Director of the PPPRS, said "I want Makers to meet face to face with a common project. Modifying and racing these toys is fun, creative, and challenging."
This year, with DieHard Platinum batteries and chargers powering the series, nine teams from six different hackerspaces and makerspaces will compete in the three events of PPPRS: a drag race, a road race, and an endurance race. The PPPRS will be a main event at Maker Faire: Detroit, and families are encouraged to attend. We hope to see you there!