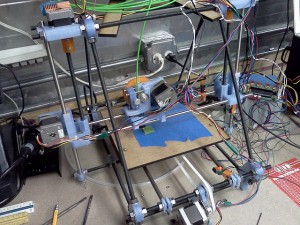 Interested in automated manufacturing, laser cutters, 3D printers, or automated routers and mills?
Come join us for DIY CNC night #5 on Wednesday November 9 at 7pm!
The general schedule:
7-7:20pm: introductions
7:20-7:45pm: discussion: tuning and calibrating a RepRap printer (we'll be tuning PS1's own 3D printer, and certifying members to use it)
7:45-9pm: machine demos, schmoozing, repair work, machine assembly, discussion, what have you
Who: This event is open to everyone
When: 7-9pm
Where: Pumping Station One, 3354 N Elston Ave, Chicago
Cost: Free, but donations encouraged
DIY CNC nights are evenings for Chicago area automated manufacturing enthusiasts, hobbyists, professionals, and the merely curious to meet and discuss the state of the art in both open source and proprietary technologies.  They occur the second Wednesday of each month at Pumping Station One, and are open to the public.
Image: PS1's 3D printer, a RepRap Mendel Prusa, printing a calibration object.