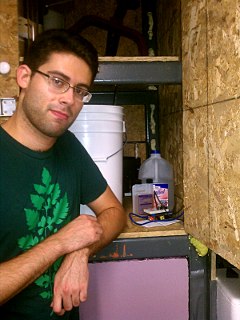 The next NERP (Not Exclusively Raspberry Pi) meeting will be at 7pm Monday Sept. 10th. See the NERP Meetup page for more information on location, meeting format, etc.
NERP is Not Exclusively Raspberry Pi, and this Monday's meeting will also discuss Android and beer.
During fermentation beer must be kept at fairly precisely controlled temperatures. The required temperature varies with the stage of fermentation and other factors.
Any self-respecting beer temperature monitor would be accessible from the 'net, and this one is no exception. Monday, Eric Stein will show Brewing Station: One's  Raspberry Pi based temperature monitor and controller. Eric will show how the Python code and electronics work and discuss some issues around controlling temperature. Sampling the product will have to wait until Beer Church taps the keg.
The Desktop is DEAD, Long live the Desktop: The Android 4.0 miniPC
Jay will be doing a short walk-thru and talk about the user-land experience with the new Ricomagic MK802 thumb-drive-sized pocket-computer. Jay will be demoing android 4.x, Fedora, Ubuntu and/or puppy linux on the Ricomagic MK802. The Ricomagic MK802 is a $65 Cortex A8 1GHZ processor with 1GB of DDR3 Ram, 4 GB flash, wifi and a 500MH GPU (Mali 400) with HDMI video. The small computing landscape is changing fast, and the Raspberry Pi is only part of the story.