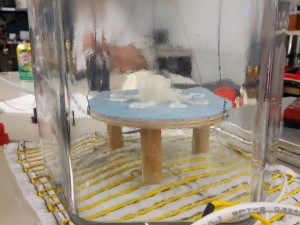 Last night's meeting was great.
A huge turn out of about 25-30 people
About 8 people certified on the laser by Colin
About 4 people certified on the vinyl cutter by me.  I started adding tips to the wiki page for the vinyl cutter because there was a little struggling to get good results.  I think it was due to not setting the orientation of the plot (worked for me)
I saw some certification on the LulzBot.  We need the linux computer for that fixed or replaced!
Ryan and Liz Certified on the CNC router and they cut a complete project on their own (cool little circle/star thing)
Acetone Smoothing….So it appears to make good prints look great and bad prints to worse.  You can't polish a turd.
The Quantum Delta was slowly cranking out angry ducks and squirrels all night.
ABS Smoothing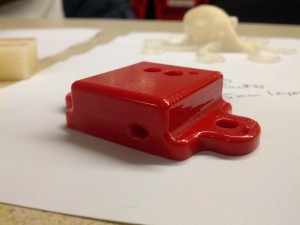 We did some experimenting with ABS Smoothing.  Donald J brought in most of the equipment which consisted of a heating pad, glass cookie jar and a little stand to put the parts on.   We put a small amount of acetone in the jar, then put 3D printed ABS parts on the stand.  When the acetone heats up it forms a cloud in the bottom of the jar, enveloping the ABS part.  Most of the acetone condenses back near the top of the jar.
It worked pretty well on finely layered parts.  It made some parts actually look little worse by highlighting flaws.   It took quite a while to heat up and could be optimized.  Donald is looking for volunteer ABS parts to practice with.
We have a temperature controller for it we can wire up.  It can only drive about 3amp @ 110V.  Does anyone have an SSR?  The mechanical relay probably won't last long in this application.  The heater is probably 5-7 amps (guess)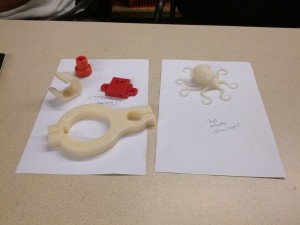 Sponsor Shout Out: Special thanks to Automation Technologies Inc for the loan of a CNC router