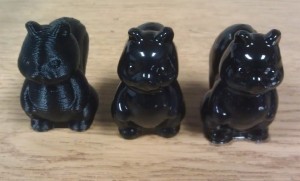 When: Thursday, 2013-05-30 @ 7:00pm.
There is no special topic or speaker for this week's meeting, but here are a few things we will be doing.
Member Certifications: Colin, Steve and I can certify on various pieces of CNC equipment including the Laser Cutter, Vinyl Cutter, 3D printers and CNC Router.
ABS Smoothing: Donald J is hopefully going to bring in his acetone vapor chamber for ABS print smoothing.  Bring your ABS parts and a any spare fire extinguishers you have.
DSP Stepper driver tuning. I now have a programming cable for the drivers.  We play with and learn about the benefits of stepper driver tuning.
Another group, gonzo CNC build? It might be fun to plan another gonzo build.  We could kick around some ideas to try to build in one night again.  I think a simple inverse kinematic (oxymoron?) project might be fun.  Eventually I want to do a six axis machine, but it might be good to get our feet wet with a non Cartesian 2 axis draw bot.  If you have other ideas, please suggest them.
I can bring in a few sample of V carving.  We might do that the following week.
Please RSVP via Meetup if you are coming.