Hello everyone!  It's been cold.  It's been snowy.  But some of you people are still riding your bicycles.  Being cold and snowy doesn't stop the need for maintenance.  Every other week is Bike Night at PS:1, and we've got our doors open for you.
Sometimes we bring in things to show off.  Sometimes we teach.  Usually we work on interesting bike projects.  (Learning how to wrap bars, building a bike from the frame up, etc) Last night was playing bike doctor more than "here's fun stuff to work on."  We had two patients last night.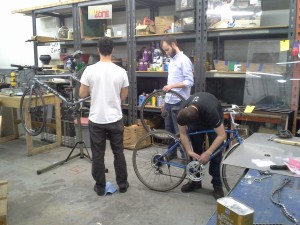 Patient #1 received a new chain and sprockets to replace a stretched set.  And, the rider discovered the magic of clipless pedals last year, so replaced his platforms with some SPD pedals.
Patient #2 had some cheesy short term replacement pedals replaced with some very nice platforms, and had it's headset rebuilt.
Does your bike need a tuneup?  Do you have questions about picking a new bike this spring?  Do you want to learn a new bicycle related skill?  Come visit us, we'll be gathering in the shop March 5 at 7PM.
-Nerobro