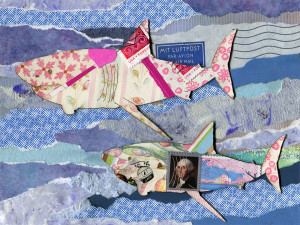 Every artist hopes to come up with an original idea, to be on the forefront of the next big idea or movement. This is hoping against the odds as the past two centuries have seen an explosion of movements, styles and schools of thought that rained down in Western art like a meteor shower.  Fauvism, Cubism, Futurism, Surrealism and many other modern movements would originate, peak and dissipate rapidly, lasting a few decades or less. World Wars arose and crushed other movements like Romanticism or Der Blaue Reiter. There are many forms of art that we can reach into the past and mine: appropriate and carry on with. In fact, schools of American Impressionists are still working in different lineages since the 19th century from William Merrit Chase, John Singer Sargent and other painters. Waves of more recent artists have imitated Picasso and Warhol. For the contemporary artist hoping to create something unique, there is very little chance of inventing something new.
Current technologies are opening the door for innovation. Many times, I am seeing where maker technologies are being used to vary production of traditional physical media arts and crafts. Laser cutters are being used to etch intaglio printmaking plates, textiles are incorporating electronics and lights, robotics are animating sculpture, and digital media is widely available. Video, animation and interactive arts are now accessible to most of the general public. It's an exciting time to be involved in the hacker/maker culture.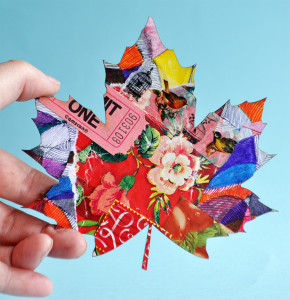 I may have come upon an idea that can become an art style uniquely ours: Laser Collage. I have always enjoyed collage for drawing on images and materials readily available around people. At its most basic level, the only thing needed to create collage art is some form of glue or paste. Good scissors, a razor blade or hobby knife are helpful. Throughout art history, most fine art collage works have followed their siblings in painting and drawing, largely staying within the bounds of a rectangle or square. Contemporary painters such as Elizabeth Murray, Frank Stella and Ellsworth Kelly set their abstract works free from the tyranny of the rectangular border. Now artists in the hacker/maker community can liberate the collage from the rectangle.
Laser Collage innovates through using two things well loved in the hacker/maker community: digital vector art and laser cutters. By using a vector design, the exterior borders of a collage art can take any form. Art works can have further elements by using raster etching as well as the vector cutting abilities of the laser. Artists can utilize recycled materials. I am excited by the possibilities for this medium. Functional and three dimensional designs are possible beyond flat two dimensional art works. Laser Collage is an art style that frees the collage art to be any size and shape. This is an art form that can be uniquely ours.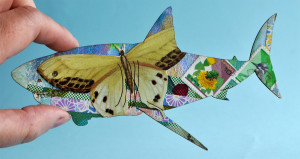 My experiments with these samples were basic in materials. I used recycled chipboard (i.e. common food packaging like cereal boxes) and a simple glue stick. I avoided PVA [polyvinyl acetate] "white" glue since it is similar enough to PVC to be a possible problem with dangerous fumes from a laser. Any glycerine and wheat-based adhesive like glue sticks, YES! Paste or acrylic-based adhesive like gel medium should be safe for laser cutting.
Using the Epilog Mini 30W laser, I got an excellent cut through the variable thickness layers of paper and chipboard using a vector setting of speed 15 / power 100 / hz 2500. The edges have a little scorch, so you may want to adjust your cutting power or increase the speed. Raster etches were at speed 40 / power 100. Etching has interesting potential for etching your collage in a fashion that lower layers reveal different colors in the design. My approach was to cover the chipboard surface first in collage elements with my glue stick and then place it in the laser cutter for cutting and etching. The artist controls the materials used, color palette, range of colors, form of the collage pieces, flow of the collage design, number of layers cut by the laser, laser etching elements and the ultimate size and shape of the border.
Creators without access to a laser cutter could use vector designs using an electronic cutter like a software hacked Cricut, a Silhouette cutter or similar machine. I have often seen owners of these tools cut elements to incorporate into collages, artist books and paper arts, yet still retain the linear borders of a square or rectangle. Shaped collages would be restricted by the width of the cutting machine which is usually around 12 – 15 inches, whereas laser cutters tend to have larger cutting dimensions. I am most excited by the potential for the medium through laser cutting technology because a laser cuts details a lot finer than a metal blade can and etching adds more depth to the design.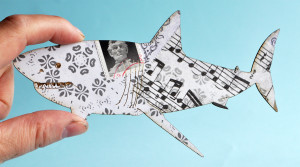 Laser Collage is my humble offering to the continuum of Western art history. Maybe I will be the only one interested in this form but I am putting the concept online hoping other people will want to try it. Mixed media elements including paints, markers, pens and pencils can also be easily incorporated. Feel free to experiment with the process on your own and please respond if you want to show your work in this medium, if you have any discoveries or develop a variation of the technique.