It's movie night time! This drama-documentary was screened last year in Chicago, and it covers the life and difficulties of Alan Turing.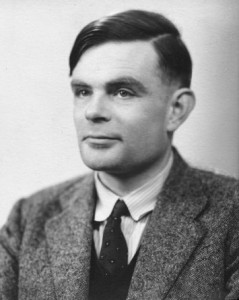 From http://www.turingfilm.com/:
"Alan Turing is the genius British mathematician who helped save millions of lives by breaking the German naval Enigma code during World War II. He also was the visionary scientist who gave birth to the computer age, pioneered artificial intelligence, and was the first to investigate the mathematical underpinnings of the living world. Turing is one of the great original thinkers of the 20th century who foresaw the digital world in which we now live. In the eyes of many scientists today, Turing sits alongside Isaac Newton, Albert Einstein, and Charles Darwin at the table of scientific greats.
[youtube]http://youtu.be/-GaKUAGSmmw[/youtube]
Instead of recognition for his genius, Alan Turing was driven to a terrible despair and early death – by the nation he had done so much to save…"
When: Friday September 5, 7:30 PM-9:30 PM
Doors open at 7. Feel free to BYOB. Afterwards there will be discussion. This event is free and open to the public.
Where: PS1 Lounge
Additional links of interest: 1.) http://www.cs.virginia.edu/~robins/Turing_Paper_1936.pdf
"On Computable Numbers," which lays out computability and the universal turing machine
2.) http://www.loebner.net/Prizef/TuringArticle.html
"Computing Machinery and Intelligence," which contains the Turing Test