NERP is not exclusively Raspberry Pi, the small computer and embedded systems interest group at Pumping Station:One in Chicago. NERP meets every other Monday at 7pm at Pumping Station:One, 3519 N. Elston Ave. in Chicago.
Tonight at NERP, professional maker/hacker/DIY'er Bart Dring will introduce Cypress Semiconductor's PSOC IC's. PSOCs are odd beasts. They've been around since 2002, but there seems to be a growing interest in their peculiar mix of capabilities.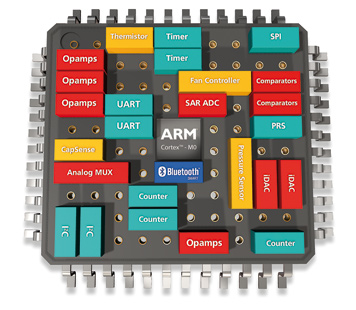 From the PSOC website http://www.cypress.com/products/programmable-system-chip-psoc
[Disclaimer: I have not used the PSOC product or its dev tools. -Ed]
"PSoC® is the world's only programmable embedded System-on-Chip integrating an MCU core [ARM, of course], high-performance Programmable Analog Blocks, PLD-based Programmable Digital Blocks, Programmable Interconnect and Routing, and CapSense.  All new PSoC devices feature the industry standard ARM® Cortex® MCU cores."
The development tools don't sound to shabby either:
"PSoC Creator is a free Integrated Design Environment (IDE) which allows concurrent hardware and application firmware design… PSoC systems are designed using classic, familiar schematic capture supported by over 120 pre-verified, production-ready PSoC Components™.
Some of the config is done by drag-and-drop in a GUI.
Find NERP and Pumping Station:One at
http://www.meetup.com/NERP-Not-Exclusively-Raspberry-Pi/
and
https://pumpingstationone.org/
Doors open at 6:30pm.
NERP is free and open to the public.
Ed Bennett ed @ kinetics and electronics com
Tags: PSOC, ARM, electronics, embedded, NERP, Open Source,
raspberry pi, hackerspace, Beagle Bone, Element14, Pumping Station One