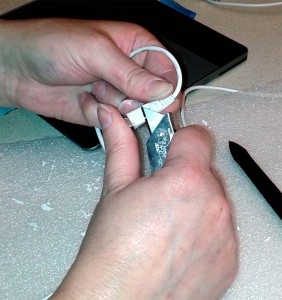 Did you lose the USB to USB Micro B cable that connects your Wacom pen tablet to your computer? Don't panic! This is not necessarily another propriety piece of equipment you can only get from the manufacturer. There is a quick fix.
The cable that comes with the Wacom may alarm you to have lost it; it looks unique, since the smaller Micro B end has a 90 degree angle turn. This is a design element possibly for aesthetics and maybe to prevent the cable from pulling out easily from the tablet while it is in use. You do not need a replacement cable exactly like the one that shipped from the manufacturer. What you need is a replacement cable that fits.
This is where cable replacement gets tricky because the Micro B port on the tablet is deep and very narrow. Most cheap, off the shelf cables have both ends encased in a massive brick of rubber that will not fit the tiny 6 mm tall by 12 mm wide Wacom Micro B opening. You can take any old cable and make it fit by whittling down the rubber as close as you can to the metal. A box cutter with a sharp, new blade works well. I tried to improve the look of this hacked cable with a single wrap of electrical tape, but had to then remove the tape as that still made the Micro B end too thick to attach.
If you want a neater cable to use for the long term, beyond this DIY quick fix, step away from the cable aisle in your electronics store and head over by the cell phone accessories. The Micro B cables marketed for smartphones tend to have a sleeker design, more color choices and smaller rubber grips which will insert into the Wacom. Bring your pen tablet with to make sure the cable you select will fit before you leave the store. Also, be sure you get a combined data and charging cable, since charging only cables that look similar are usually in the mix of products for cell phones.