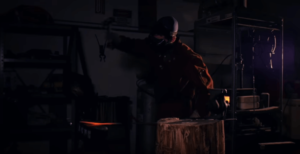 A few months ago I brought in a local Hassidic, folk, duo, the "Rogers Park
Band" to shoot a music video for their new single. The song is an ancient
melody that is sung during the Jewish High Holiday of Yom Kippur. It draws
comparisons on how a craftsman molds his medium into a specific shape or
form, G-D acts similarly with us, shaping and designing us intentionally
into the forms that best suits us.
When Yosef Peysin (frontman) contacted me to see if I could help them with
their music video I knew I had the perfect place for them to film. I had
recently told Yosef of Pumping Station: One when I showed him the ring that
I had just made (How to Make a Ring out of Scrap Copper (How to Make a Ring out of Scrap Copper ) under the guidance of Aushra Abouzeid, the Small Metals Area Host. Being
new to PS:1, I've been trying to get authorized on any piece of equipment I
could, yet never made it to the Hot Metal Area yet. Ron Olson, the Hot
Metals Area Host, responded to my request and graciously authorized me
outside of his regular authorization times, which was due to a tight
production schedule on our end. His instruction was wonderful and was no
doubt a large part of the reason that I didn't blow up the workshop, burn
the space down, and can still proudly display all the body parts I started
with (look Mom! A full complement of fingers and toes!). Thanks, Ron!
We scheduled our shoot for early on a Wednesday morning in the hopes that
everyone would be at work, which was obviously a ridiculous thing to
assume. The neighboring woodshop area started to fill up with artisans who,
for some strange reason, wanted to turn the lights back on (we had turned
them all off and were using special production spotlights to create a
dramatic effect but they wanted them back on, something about working with
power tools in the dark or something unreasonable like that). Thankfully,
the woodshop peeps were kind enough to give us some time to shoot with the
lights off. Thanks, guys!
Here is the final product of our labor. Enjoy!
Rogers Park Band: As Metal is in the Hands of the Blacksmith.
Postscript: The Rogers Park Band does a lot of work with disabled, and
special-needs individuals, check out another of their music videos working
with that theme below!
Roger Park Band: Shared Hearts Music Video.
This post is published by bjonnh, but has been entirely written, endorsed and whatever else by Menachem B.