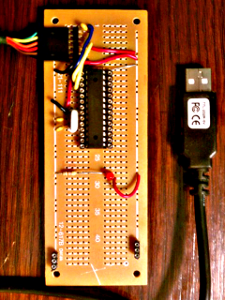 There will be an intro-level Arduino class next Sunday 2/19/12 from 3-5pm in the big room. The emphasis is on understanding circuits and hooking stuff up.
This will be a 4-part series or so. There are 10 seats available, but observers are welcome after the 10 seats are filled.
I'll have a kit for sale on site to get people started. Price is $29.00. It has a board, chip, USB adapter, LED's, and a couple of other things to get you started. Because I'll be packaging the kits for the occasion, I ask that if you attend, you purchase the kit.
I'll take reservations by email and payment for the kit on site or by Paypal.
The first session (2/19) basic description is:
How to Solder: Solder up an Arduino workalike.
How to run the Arduino development application on your laptop.
Basic Arduino program structure. Run an LED. (Hello World blinky).
Show where the built-in examples live in the IDE. Run an input example and an output example.
For inspiration, demo a couple of circuits with an Arduino and some connected hardware.
That's probably all that will  fit in two hours.
Future sessions may discuss Arduino-compatible accessories, motors, simple sensors, and so on. There are many possibilities.
Who: everyone (members and non-members are welcome), seating is limited to 10 people
Cost: $29 for the kit. Email ed at kineticsandelectronics dot com to reserve and to arrange payment.
When: 2/19/2012 3-5pm
Where: Pumping Station: One 3354 N Elston Ave Chicago, IL 60647