Arduino 101: A hands-on workshop presented at Flourish 2012 by Pumping Station: One (pumpingstationone.org) at the University of Illinois at Chicago, Room 430 Student Center East, 750 S. Halsted, 1:00pm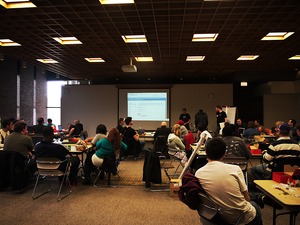 Instructor: Ed Bennett
The purpose of the Flourish Conference is to promote the use and adoption of Free Libre Open Source Software (FLOSS) by demonstrating the practical applications of FLOSS in the business and academic world.
The workshop had around 40 attendees. It introduced the Arduino platform starting from the basics of software, hardware, and microcontrollers. Since there were a lot of programmers at the conference, we went a little further into the "behind the scenes" aspect of the Arduino environment than is usual with basic introductions.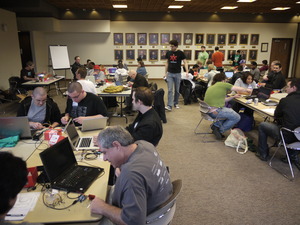 Working with circuits and breadboards isn't hard, but you have to train your eye to see the physical sense of the thing. Starting afresh, it's very easy to make mistakes. If it weren't for the volunteers from PS1 who patrolled the room watching for people needing help, the workshop would not have been possible.  Patrick, Anna, Avner, Steve, and Eric stayed very busy for the whole two hours.
More images and the workshop outline are at KineticsAndElectronics.com.
Images by Anna Yu.