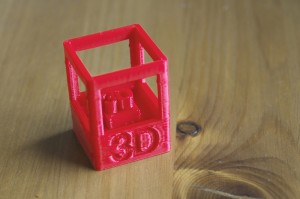 The second Wednesday of every month is Automation Night, dedicated to hobbyist and professional automated manufacturing tools like 3D printers, CNC mills, laser cutters, cake frosters, and wire benders.
Are you interested in at-home automated manufacturing? Do you like the idea of owning your own 3D printer, laser cutter, automated mill, router table, or other astounding automatons? Then this is the night for you!
Please attend if you're interested in learning more, already have an automated tool at home, want to show off your latest build, or just want to meet locals who are into this exciting technology!
Who: Open to the public
Where: Pumping Station: One, 3354 N Elston Ave, Chicago, IL
When: Wednesday, May 9th, 7pm
Cost: Free ($5 suggested donation for non-members to help us pay the rent)
Planned Schedule:
7-7:10: people show up
7:10-7:25: introductions round-robin
7:25-'till everyone leaves: schmoozing, machine assembly and show off, discussion of tools and techniques
Image: Printable 3D Skill Badge by Thingiverse user TheNewHobbyist