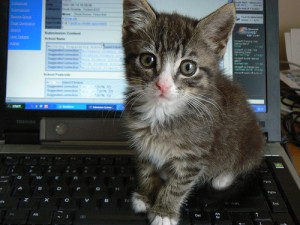 There are loads of people who want to learn how to program, and thankfully there are loads of high quality free tutorials and classes from big names like MIT (the class a small group of us are currently using), Stanford, and Google, from start-up educational resources like Khan Academy or Udacity, and other free resources like Python-course.
All of the courses listed above teach the easy-to-learn Python programming language.
Starting Thursday, May 17th, every first and third Thursday of each month PS1 will hold Python Office Hours.  This is a chance for people learning to program in Python to get together for moral support, project assistance, and homework assistance.  We'll have an experienced python developer or two on hand to help answer questions and explain difficult concepts, plus loads of students at all skill levels to provide assistance and community (there is no better way to learn than teaching!).
This is an "office hours" event with volunteer teaching assistants. The expectation is that students watch lectures, read tutorials and attempt homework on their own, then use this as a resource to aid in learning, not as a class, workshop, seminar, private tutor session, or other primary learning tool.
Who: everyone is welcome, regardless of skill level!
When: First and Third Thursdays of each month, 7pm, starting May 17
Where: Pumping Station: One 3354 N. Elston Ave, Chicago, IL
Cost: Free ($5 recommended donation to help us keep the lights on!)
image: flickr user dougwoods
PS: in lieu of apples, our TAs prefer adult beverages as thank-you presents.
PPS: interested in becoming a TA for this series? Contact the author of this post.