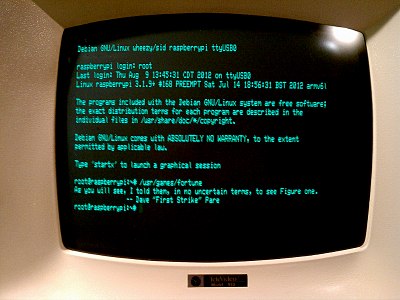 NERP (The Not Exclusively Raspberry Pi embedded systems interest group) will meet Monday August 13th at 7:00pm. During the last meeting we talked about what the Raspberry Pi is and the nature of its capabilities. Jay showed a couple of videos to demo the HDMI output and described the process of setting up a new RPi. Drew Fustini took notes and has posted some comments and resources on the PS1 public list.
After the meeting, a few people stayed around to try some fun but not completely simple experiments with the RPi's serial port. Using what I learned in the NERP serial port experiments, I made a RPi demo for to the Evanston Mini Maker Faire. The demo involved adding a 1984 Televideo 910 dumb terminal to a serial port on the Pi. The terminal is text only and displays characters as green on black. In addition to the normal gui session on the LCD screen, the RPi ran a separate user login on the dumb terminal. The LCD screen showed a video clip every 40 seconds, and the terminal showed a root login. Quite a number of people stopped by to check out the terminal and were surprised to learn about the Raspberry Pi's role in making the demo run. More images of the Raspberry Pi at the Faire, and more technnical photos are at  http://kineticsandelectronics.com/RPi-makerfaire
On Monday 8/13, Drew will demo some of the basic applications that one might run on the Pi, and possibly discuss some issues around the subject of hardware interfacing. Open discussion is always welcome. An hour before the NERP meeting begins, Jay will be available to help anyone who has a RPi and would like help installing the basic operating system and apps. Jay starts at 6pm. The regular meeting is at 7pm.