Oh come all ye faithful! Beer Church has 3 beers in the fermenter, and some of them are just about ready to go in a keg to get all carbonated and cold and… we don't have any taps on our bar, or a fridge with lines! This Sunday, we'll fix that (or get started on it, anyway)! Come help us turn our bar (thanks Greg for building it) into a real bar, with taps!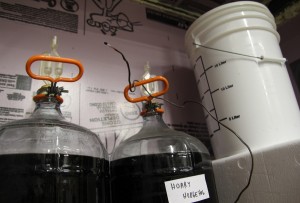 We'll start off with a quick introduction to Pumping Station: One for newbies (you don't have to be a member to attend Beer Church), with beers in hand. Bring your favorite unusual beer to share, and we'll all get to try something new and exciting. We'll check out the Raspberry Pi powered computerized brewing system that we've got going and go over our last few successful brews. The focus for project work will be on improving our dispensing and keg system, but if we have enough people we might go nuts and brew something!
The Meat
When: 12PM Noon, Sunday 10/7/2012
Where: 3519 N Elston, Chicago IL
What: Potluck beer tasting, brewing discussion, and fridge/taps buildout!
Why: Because you like beer and people who build things.