Hello again from Beer Church! Just this weekend we added the flavorings to Rhubarb Waves of Grain. We may keg Putting the India back in IPA this Sunday as well. But before all that, we'll have a pot luck beer tasting featuring our in-house brews Pumpkin Spiced Ale, Doppelbock, and whatever you bring! Bring something you brewed or something out of the ordinary from a store.
Tucker's worked out what's needed to make Sake. So, we're making Sake this Sunday. That won't take much time total, so we're going to do 2 things at once: Barleywine's also on the ticket. We have Stone Brewing's recipe for Stone Old Guardian Barley Wine which is a possibility. Other options will be considered day-of unless Eric's already bought the ingredients for Barley Wine.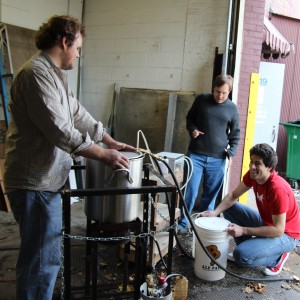 During downtime of the brew we'll have the opportunity to have our heads 3D scanned by Colin, the CNC area host of Pumping Station: One… maybe. Take a chance: come taste some beer, help make sake & barley wine, swap stories of brewing, get your head scanned into a 3D model, and go home happy.
Nitty Gritty
When: Sunday February 10th, 1PM. We expect to be brewing until around 7 PM or so, but you don't have to hang around the whole time if you don't want to. People who help out until the end get a bottle of the beverages they helped with when it's completed (approximately 1 month later).
Where: Pumping Station: One, 3519 N Elston, Chicago
What: Beer tasting and brewing hands-on
Who: Anyone 21 or over, Pumping Station: One members or not!
Why: Because beer is a worthy purpose for your Sunday afternoon
To Brew: Sake!
Brewmaster: Tucker Tomlinson
To Brew 2: Barley wine.. or something else, depending on what we decide.
Brewmaster 2: Eric Stein