This NERP, Drew Fustini will show us how to WebIDE to program the Raspberry Pi. WebIDE is free from Adafruit. Put simply, "The Raspberry Pi WebIDE is by far the easiest way to run code on your Raspberry Pi. Just connect your Pi to your local network, and log on to the WebIDE in your web browser to edit Python, Ruby, JavaScript, or anything and easily send it over to your Pi." Drew will use a Pi Plate RGB 16×2 character "Pi Plate" as the output device.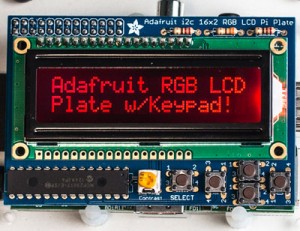 At the 1/28 NERP, we announced that the Adafruit Industries community grants people intended to send us a care package with Raspberry Pi goodies. The package arrived last week, and rather than opening it right away I thought it would be nice to share the surprise on Monday. It'll be fun to see what kinds of ideas come out of the box and what kinds of projects they might inspire.
As always, if you have a NERP related project that you'd like to share, bring
it along!
Find NERP and Pumping Station:One
at http://www.meetup.com/NERP-Not-Exclusively-Raspberry-Pi/
and https://pumpingstationone.org
NERP meets at 7pm 2-11-13 at Pumping Station:One, 3519 N. Elston Ave. in Chicago. NERP is free and open to the public.