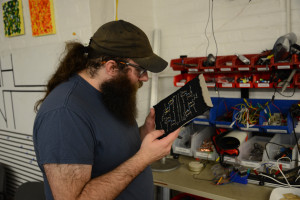 Saturday's Solder Party was fantastic! We got all the circuit boards trimmed and tinned.
I'm thinking of doing this again for future projects (and I'm looking for circuit knit ideas and collaborators!). A few things I learned from Saturday's event that will be helpful:
Removing the scrap wire  beforehand would be helpful and/or we need better diagonal cutters in the lab.
A piece of cardboard behind the board keeps flux off the table, and provides a guide for blocking the knit.
Boards to practice on would be helpful. Also, wetting down the boards will prevent scorch marks.
We have replacement soldering iron tips in the lab.
Bacon really is the best pizza topping and La Villa is the Pizza In A Bag place.
We didn't get everything done, so I'm hanging out in the lab this week to finish. (Jay Hopkins apparently has become addicted to soldering knit circuit boards, and has been working on them even when I'm not around! Thanks, Jay!)
Everett took great pictures. I've posted a few here but you can find the entire album on our Meet Up page. Please visit, and tag yourselves!