After months of work, hours of troubleshooting 3D printers and lasers, as well as a lot of patience, I'm proud to present my completed cosplay mask of gynoid Drossel von Flügel. My friend Jaina helped me take pictures at Katsucon last weekend in National Harbor. (Yes, the same convention center, unfortunately)
Note: almost all images can be clicked for full size.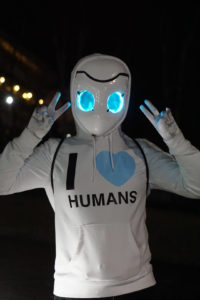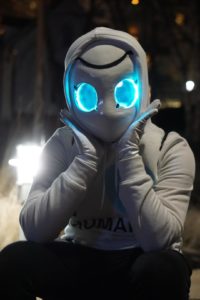 ---
---
---
I have received no shortage of help from various people. The CNC department at Pumping Station: One has been great at supporting those who want to make things. Twitter user @ByNEET released a full model of Drossel which my friend Faraday (she does 3D work! fortunafaradaze at gmail dot com) helped disassemble for conversion into 3d print friendly STL files. My friends who spent countless late nights with me while I worked on this project. My mom, who was very helpful in assembling the mounts to hold it on my head at the last minute. My friend Amir, who introduced me to Pumping Station: One which has made a huge impact on me. Lastly, the PS1 community itself, for maintaining such a wonderful place to create and share as a community.
Below the read-more is a fairly detailed explanation on how I created the mask and what tools I used for those who are interested in pursing similar projects. Feel free to contact me (Skylar) with questions at SKY at TUNA dot SH or find me at the space! I also have a (photography) website, http://hexbee.net.
Click the read more below!