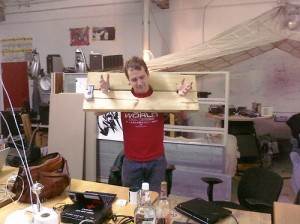 What started yesterday as a mailing list quibble ended up turning into a demonstration in escape artistry.  When two directors start goading each other back and forth all day, one of them is bound to get bound.  All that posturing ended with me intending to follow through on a joke before the start of this Tuesday's meeting.
Stocks are really an elegantly simple contraption to make.  Two 2x6s, a couple hinges and a jigsaw later, and our president is being helplessly doused by ping pong balls in public court.  After the initial 'test fitting' I had the opportunity to put the recently acquired Shopsmith through it's first paces by rounding out the neck and wrist slots for added comfort with the drum sander attachment.
For future reference, the following links are not considered official PS:One business, nor necessarily safe for rainbow-phobic workplaces:
More pictures after the jump.