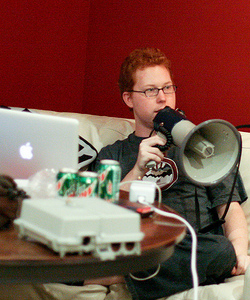 This month we are going the extra mile to fulfill your hackathon
cravings.  We will be hosting two consecutive weekends of mischief and
machinations starting with Saturday night @ 8:00 PM.
Hackathon: Come On, Feel The Noise
is now our louder, messier counterpart that's equal parts sawdust,
sparks & dance music.  Some of our own members will be on hand
DJing the event as well as the 'Cacophony Club' getting together to
demo their homebrew instruments.
We are also especially pleased to announce that hackerspaces from across the US and Europe will be joining us throughout the weekend in holding their own all-night events, making this a Synchronous Hackathon.  We and many other spaces will be hosting live feeds on Ustream that will be publicly available to view.
Next weekend will be the classic unplugged version of Hackathon: Quiet Riot.
As the name suggests, distractions will be at a minimum and the
emphasis is on coding of various types.  Pick your poison or join us
for both if you're so inclined.  Our live stream is up and running
around the clock for the most part (below).
See you this weekend along with CCCKC, Alpha One Labs, Makers Local 256, FAMiLab, Freeside Atlanta, Syn2cat, Hackerspace Barcelona, Hive13, InitLab, Kwartzlab, TOG & Tetalab!