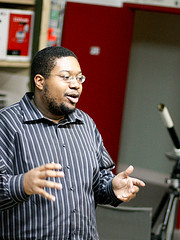 A new new presentation format at Pumping Station: One.
We've had lightning talks, and we've had a Pecha Kucha night. To push the boundaries of fun and learning cool new things, we're proud to present 300 Seconds of Fame.
We're combining our presentation media and borrowing heavily from Noisebridge's Five Minutes of Fame to create our own version. So now, 2nd Tuesdays of each month at PS:One, you! yes YOU! get to hear your fellow members, geeks, and other associated community-minded people present to whoever wants to show up, but only for 300 seconds apiece.
Basically: you've got five minutes. Use it wisely.
Within the time parameters, your 300 seconds can be a presentation, a musical number, a demonstration, a debate, a run-through of a proof of concept, performance art, live circuit bending, etc, etc, ad nauseum. Will it fit into five minutes, be feasible for the space, and be appreciated by an audience? Then go for it.
Questions? Check the 300SoF wiki page.
You can sign up with me (Anne) or Laurie. We'll start talks at 8, though doors will be open to the public at 7.
2nd Tuesday of each month. Spread the word.