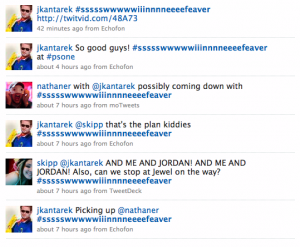 There's a few members here at PS:One that are currently out of work and are making the most of the money we have.  We don't get to go out very often so to bring cheer to our year we decided to start Chili Club.  We cook during the day when everyone else is at work and have a delicious time.
Our first meal was Chili, a fantastic recipe from Tyler Florence.  After simmering the chili for two hours on our induction cooktop we swapped to the crock pot and started on the cornbread.  Things got a little more interesting because cornbread on a cast iron skillet is supposed to be made in an oven, which we don't have.  Fortunately the induction cooktop has temperature control, which worked perfectly after covering the top of the pan.
We were using the hashtag #ssssswwwwwiiinnnneeeefeaver on twitter in honor of SNL. Chili Club is going to be a once a month, stay tuned for next months meal!