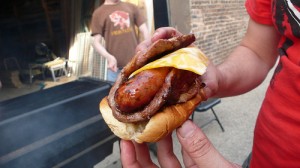 In case you thought otherwise, it turns out nerds aren't exempt from proving their survival skills by cooking meat on an open flame from time to time.  To keep with tradition this Saturday, May 1st @ 3:00 we will be cooking out in one form or another, (The weather looks good as of this writing, so expect full force) and you are all invited to join us.
If you want to eat as well, we ask that you please bring something to share too.  We're all excited to come out of our caves and kick off Spring/Summer this year with food, drink & good conversation so come on out, we need to attract the fire department like we did last year!
Hugs from the VP will be available too.