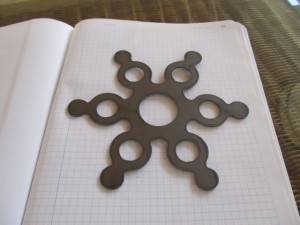 Last Monday's 3D printing discussion was both well-attended and full of ideas. By the end of the night the beginnings of a few exciting new projects were starting to take shape. Since there are already several CNC projects in the works at PS:One, we decided that once a month isn't enough to satisfy our appetites for automation.
So I'm pleased to announce the formation of the CNC Build Club, which will meet every Wednesday night at PS:One to design and build machines employing computer numerical control. If you're interested in building a 3D printer, a CNC router or a pick & place machine, you can join up with a group already working on a design. Or come up with your own idea and recruit others to work with you!
Who: Open to the public
Where: Pumping Station: One, 3519 N Elston Ave, Chicago, IL
When: Every Wednesday at 7pm
Cost: Free ($5 suggested donation for non-members to help us pay the rent)
We're still going to have our monthly Automation Night, which will be slightly more formal and have a guest speaker, but all other Wednesdays will be focused on getting work done on projects.
Join the Google Group for the CNC Build Club. We'll see you Wednesday night!