Beer Church is doing great lately. We've made 3 beers so far – 2 stouts and a spiced pumpkin ale. We just racked the spiced pumpinkin ale last night. We're not sure how good it is yet, having only tasted it warm and halfway through the ferment, but it's quite unique and we look forward to kegging it in a few weeks.
We served both our stouts on October 20th, at Locktoberfest Chicago 2012, alongside Cross of Gold beer from Revolution Brewery. Good times had by all, and all the beer poured out into waiting cups at a spirited pace. We look forward to seeing what happens with Locktoberfest 2013. We served out of our brand new taps built by Ryan Pierce!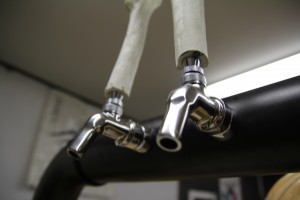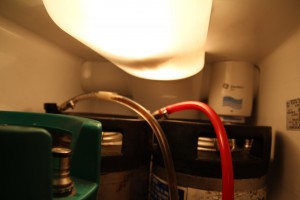 More developments are… developing, on the bar! It'll be even cooler later, when we'll post a full writeup with pictures.
This Sunday, we'll have a standard Beer Church event; with the addition of a random chance of whether we'll be making Wine or Mead. Depending on when we hear back from participants, it'll go either way – this post may be updated in a few days.
For those new to Beer Church, we hold pot-luck beer tastings, where everyone brings their favorite unusual beer and we taste them. We discuss the state of technology, brewing, and science in an informal midday Sunday setting at Pumping Station: One.
Once we've satisfied palates and our conversational avenues, we'll either make wine, or mead! That depends on whether our winemaking correspondent is able to make it. Either way, we'll be learning something new and making a delicious beverage. Come on down – both ends of the beverage cycle will be covered!
Details
* Date/Time: 12:30 PM, 11/11/2012
* Location: Pumping Station: One, 3519 N Elston Chicago IL
* Attendance: Public, no RSVP required, must be 21 or over