Okay, so first of all, Pysanky Day is a very special day celebrating the thousands-of-years-old art of Ukrainian egg decorating (a "pysanka" is one such egg, "pysanky" is multiples of them).  Now, there's not an actual Pysanky Day; folks decorate the eggs traditionally around Easter time.  In my household, however, we celebrate several different holidays around Spring:  Passover, Easter, and Ostara.  Each year we decorate eggs and it's grown from just Paas dyes to pysanky.
When I asked one of my fellow hackers if they'd like to learn the art, they got totally excited about using the Egg Bot.
The what?
The Egg Bot!
Of course, there's a bot for eggs.  Why?  Because Hackerspace.
And thus, Pysanky Day was born.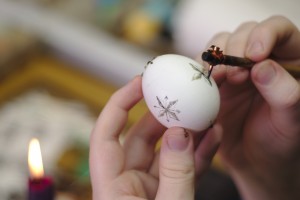 A celebration of the ancient:  the plain egg is drawn on with melted beeswax using a tool called a "kistka."  Based on technology that's about four thousand years old, it just consists of a stick or dowel with a hole drilled in one end, into which is inserted a metal funnel.  The funnel is held in place with copper wire.
After heating the tip of the kistka in a candle flame, a small amount of wax is scooped into the fat part of the funnel.  It takes some practice to get the wax to flow smoothly without making drops of wax on the egg.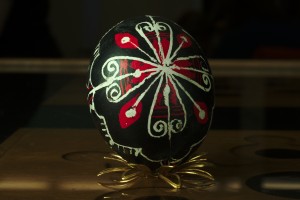 One of my favorite designs, this is from one of the series of five Ukrainian Design Books available from the Ukrainian Gift Shop in Roseville, Minnesota. Part of the design was done with a traditional kistka, and part was done with an electric kistka.
In principle, the electric one works the same as the manual one; I like it better because the flow of wax is much more even.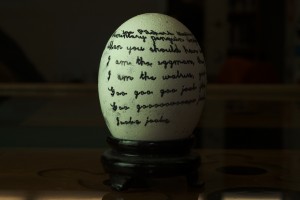 We got to playing with the Egg Bot, which brings us up to present day technology. Using a pen, it writes on the egg. The writing is completely programmable.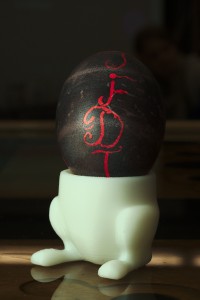 And finally, in true hacker style, we used the 3-D printer to print an egg holder in the shape of a bunny rabbit. One of our members, walking through the space toward the end of Pysanky Day, commented, "Oh! Rabbit Pants!"
Yup. Hackerspace.
All egg images used by permission, copyright: CC-BY-SA Everett C. Wilson ( https://creativecommons.org/licenses/by-sa/3.0/us/).
Image of the Egg Bot from the Egg Bot site, (http://egg-bot.com/)