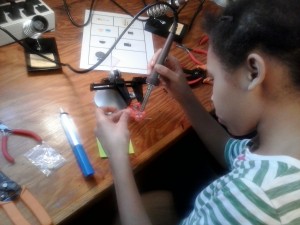 Hello everyone! You know those demonstration days we did for the library a month or so back? Well, Elizabeth and I thought it'd be a good idea to reach out to the school where we teach the after school Maker class and do the same. We thought that having an open demonstration for parents, kids, and faculty would be a great idea to cultivate our image as a valuable educational resource for kids and adults alike.
We want to showcase the value of Maker culture and skills in the development of kids in gradeschool. We want to be entertaining, so we plan on doing the Learn to Solder kits, Laser cutter demo, possibly some 3D printing demos, and the like. If anyone has any demonstrations that would be appropriate for kids, and would like to help out by hosting that demonstration, please come.  And if you just want to be there and mingle with the parents, maybe bring your own kids, show them what our community means, and what it means to your kids, please come.
The event is Sunday, June 8th, from 2-4pm, at Pumping Station: One.