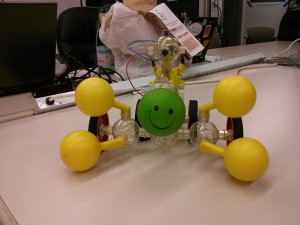 Hey Hacky People,
I'm holding a crappy robot competition at the end of the month. This
competition is targeted at people who DON'T KNOW HOW TO BUILD ROBOTS!
😀
Inspired by HEBOCON in Japan: http://youtu.be/46ivFpsmEVQ , crappy
robot will be pitted against crappy robot in some type of sumo match.
Some will win, some will lose, some will fall apart before they even
enter the ring. Everyone will enjoy themselves!
Here's the essential details you need to know:
Date: January 29, 2015 @ 19:00
Location: Pumping Station: One Electronics Lab
Register to compete at http://goo.gl/forms/XbZrvSLq97
Only the first 31 people to register will be allowed to
compete, so register early!
The full rules will be published some time before the competition
starts. Here's the main things you need to know:
* Robots will compete inside a circular ring.
* The goal is to either knock the other robot over, or push it out of the ring.
* There will be a penalty for making your robot too high tech
(questions about this should be directed at the judges).
* If you're playing to win, you're missing the point! 🙂
Happy Hacking!
Edit: The rules can be found here! As always, they are subject to change.