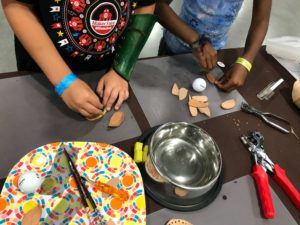 In this free one hour make & take, you'll explore ways to add texture and shape to vegetable tanned leather using common household objects! The class will be Thursday, November 9, 2017 upstairs in the Arts & Crafts Area at 7:00 – 8:00 PM.
The instructor, Tamara Clammer, is a Seattle based leatherworker and the Maker Advocate at Brown Paper Tickets.
If you can't attend this class, you can also join her at Maker Fest at the Niles-Maine District Library from 12:00 – 3:30 pm on November 11th.