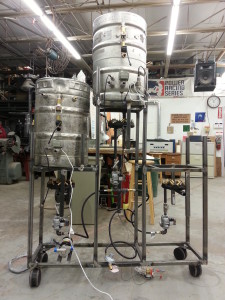 Overview
A bit over a year ago, I began a project to build a computer-controlled beer brewing system that Beer Church (Pumping Station: One's homebrew club) could use to brew all-grain beer. I had no idea when I started this project that it would lead to visiting people from multiple countries, two synchrotron radiation sources, and a nuclear research reactor, or that control systems engineers from international labs would provide assistance. While it still isn't ready to brew beer yet, I've recently reached a milestone in integration testing, and I'm rapidly approaching the point where the first test batch will be possible. Unfortunately, I haven't been blogging about it, so a lot of catching up is needed….
So, why would someone want to make what could be called a CNC machine for beer? First, it's not about eliminating humans. The goal isn't automation to the level of "push button, get beer." Humans will still need to load the ingredients and monitor the process. We don't want a hose breaking, resulting in 12 gallons of beer wort on the floor and a propane burner melting the bottom of the resulting empty stainless steel keg. Rather, the primary reasons are:
Repeatability. I want to eliminate human error. Repeatability often is the domain of commercial brewers, but for hobbyists, repeatability still is critical. Transitioning from good beer to great beer means experimentation. And that requires having good control over all the variables. How do I know if that different yeast I used made my beer taste better, or if it could be explained by sloppy temperature control in the mash process?
Predictability. Shareware and free beer design software exists that acts like CAD for beer. You can design your grain bill based on a library of ingredients, enter a mash and hop schedule, yeast, fermentation temperature, etc. and it will simulate the process, telling you what you can expect in terms of initial and final specific gravity, percent alcohol, color, bitterness, etc. You can tune the model based on the efficiency of your brewing system. But prediction works only as well as the repeatability of your process.
Capacity. Right now, we are limited to 5 gallon batch sizes. While we certainly can buy larger hardware, it makes sense to upgrade to automation at the same time. With a system based on 15.5 gallon beer kegs, we can produce 10 gallon batches at a time.
And, well, there are plenty of secondary reasons that can best be described as "Because hackerspace!" I've wanted to learn more about industrial control electronics and the EPICS software environment. It was a great excuse to learn to weld. I had acquired authentic cold war indicator lights from actual nuclear missile systems that needed to be put to an awesome new use. And I could do all that while brewing beer!
To describe the CNC beer system, I first need to explain all-grain brewing and the issues inherent with our current brewing method. To be clear, these issues affect repeatability, not quality. We are already making really good beer. Nothing is wrong with what we're doing. This new system likely will improve beer clarity (and that is important in homebrewing competitions) but otherwise it won't do much on its own to make the beer better. Start with a bad recipe and you'll end up with bad beer; the new hardware just makes it repeatably bad! Rather, it will provide state of the art tools to anyone who wants to experiment, and this could be very useful to brewers wishing to be competitive in homebrewing contests.