Friday Evening, March 16 at 6:30
Dwayne Forsythe and friends from 2DKits are coming to Pumping Station: One to teach us how to solder by making Blinkies.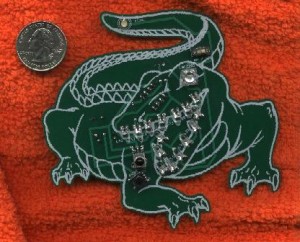 This is where you get to build one of those LED flashing things.
You start with the kit, use the tools we have in the room. When you are
done, you will have a working blinkie. We have blinkie Techs to help you
debug any problems.
We do allow and encourage children to build their parent's blinkie,
but the parent has to stick around and learn about the process.
When: Friday March 16  6:30 to 9:00
Where: Pumping Station: One
3354 N. Elston, Chicago
Who: Open to the public
Cost: $5 suggested donation for non-members plus cost of kits.
Kits will be provided by 2Dkits. They cost between $7 and $21.