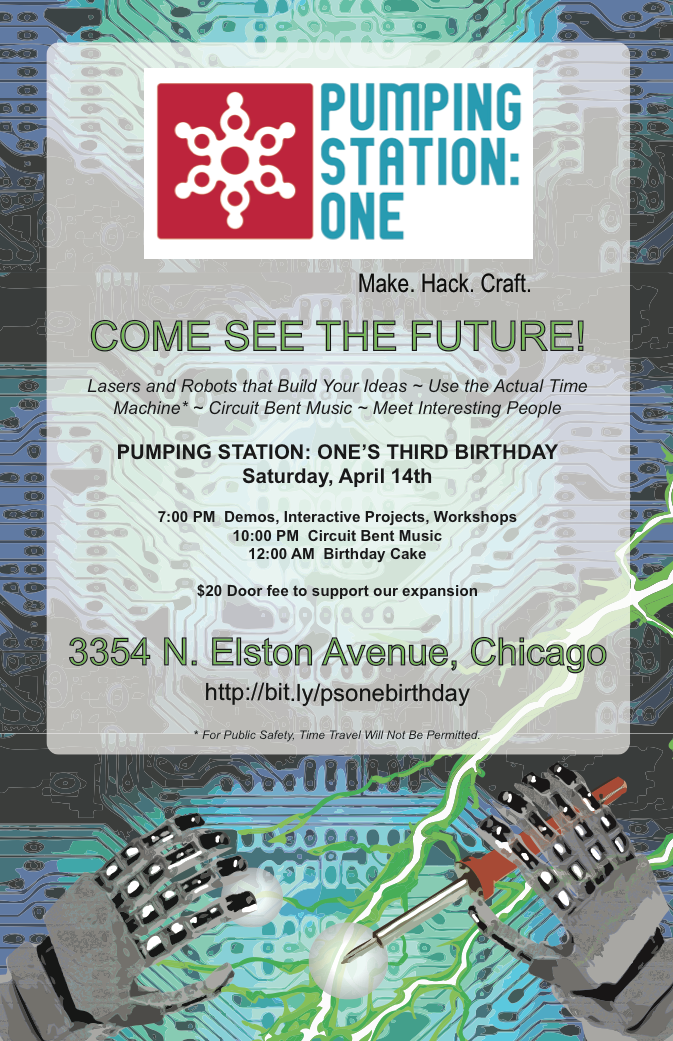 A long time ago in a galaxy far, far away …
Ok, three years ago in a coffee shop not far from here, Pumping Station: One was just a dream in the heads of a bunch of DIYers who had no idea what they were in for. Come celebrate our 3 year anniversary!
Date: April 14
Time: 7pm – Demos and Reception; 10pm – Circuit bent music
Place: Pumping Station: One, 3354 N. Elston (near Belmont and California)
Come check out the awesome hackerspace we've built and some of the cool projects we've made there, including:
Life Size TARDIS
Actual Time Machine*
"Fresh Paint" Magnetic Light Board
High Five Glove
THUNDER SLINKY!
Play the Didgeridoo
LED Cube
Brain Based Jacob's Ladder
DIY Quadrocopter
Suped-up Power Wheels Racer
"Counter-Intuitive" an electromechanical machine
Plus, make stuff with our most futuristic tools:
ShapeOko CNC Mill
ORD Bot 3D Printer
Epilog Laser Cutter
Learn to solder your own blinkie badge!
Silkscreen your own art poster!
Later in the evening, join the party with live music from circuit benders Tomer Gal and Michael Una and enjoy a slice of midnight birthday cake.
There is a $20 door fee to fund our expansion into a larger location.