Come out to see the recently premiered documentary about the life and struggles of Aaron Swartz, Reddit co-founder and political activist.
From Wikipedia:
"Swartz was involved in the development of the web feed format RSS,[3] the organization Creative Commons,[4] the website framework web.py[5] and the social news site, Reddit, in which he became a partner after its merger with his company, Infogami.[i]
Swartz's work also focused on sociology, civic awareness and activism.[6][7] He helped launch the Progressive Change Campaign Committee in 2009 to learn more about effective online activism. In 2010 he became a research fellow at Harvard University's Safra Research Lab on Institutional Corruption, directed by Lawrence Lessig.[8][9] He founded the online group Demand Progress, known for its campaign against the Stop Online Piracy Act."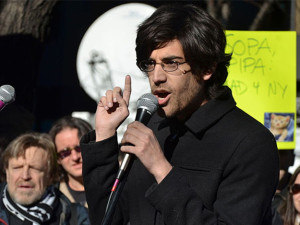 There will be popcorn provided, and feel free to bring any snacks or drinks of your own. After the documentary showing there will be discussion, or people can hang out. This is a public event, so bring your friends!
Extra links:
Here is his blog: http://www.aaronsw.com/weblog/
One example of Aaron's legacy: http://motherboard.vice.com/read/how-aaron-swartz-helped-inspire-lawrence-lessigs-mayday-pac
Legal analysis of the case: http://www.volokh.com/2013/01/16/the-criminal-charges-against-aaron-swartz-part-2-prosecutorial-discretion/