PS1 member Jenny organized a Friday night viewing a few weeks ago of The Internet's Own Boy: The Story of Aaron Swartz.  I was thankful to be able to watch that powerful film with others and discuss it afterwards.
To follow on that success, I would like to invite anyone that is interested to join me this Friday night at PS1 to watch the 2012 documentary film: 
A documentary on the workings and beliefs of the self-described 'hacktivist' collective, Anonymous.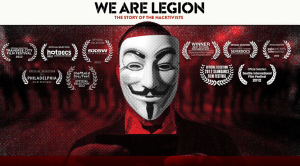 Date: Friday, August 8th 
Time: 7:30pm; doors will open at 7:00pm 
Location: Pumping Station: One, 3519 N Elston Ave, Chicago, IL 
Room: Lounge or Electronics Lab (depending on concurrent Writer Zen 
Garden location)
Who: Open to the Public!
[youtube]https://www.youtube.com/watch?v=N0IDkzhBQMg[/youtube]
Cheers,
Drew Fustini (@pdp7)